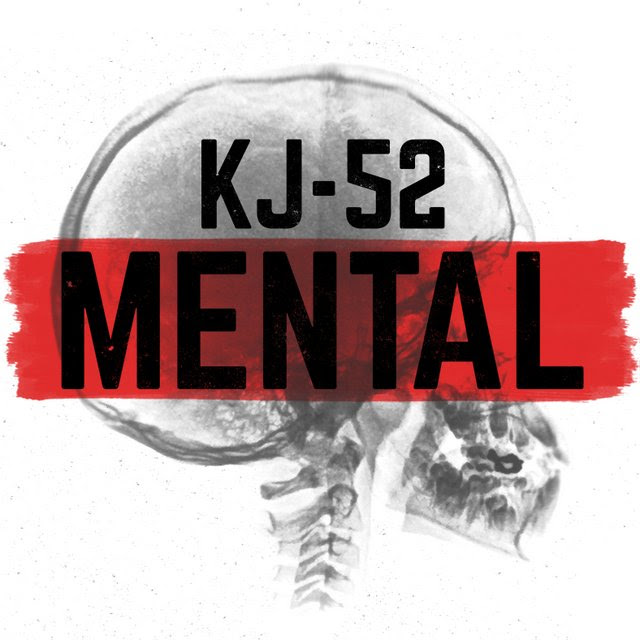 Artist: KJ-52
Album: "Mental"
Album: The Paradigm Collective
Release Date: October 21, 2014
Overall Thoughts:
Sweet beats, slick transitions. Impressive rap moments. Clever and clear messages of hope and truth.
I have not heard the original mixes of these songs, so I am basically reviewing them based on a first hearing.
Recording Thoughts:
Very good ... Professional
Individual Song Thoughts:
1. Gameface (feat. KB, Soul Glo Activatur) [1st Half Edition] - A song calling for an attitude ready to stand strong in life... in faith... in trust in God.

2. Fight Music (I Don't Do Black or White Music) [feat. Lecrae & Propaganda] - "They just like me... we're covered by the blood of the King" amen. This song takes the idea of race and thought in those ways and throws the to the side. Seeing, instead, brotherhood and sisterhood in Christ... we are all the same. Christ is available to all. When we see the world this way... all that other non-sense just fades away. I certainly liked this message.

3. Island of the Misfit Toys (feat. Social Club & SPZRKT) - Ohhh.. a nice R&B feel. A sweet listening sensation. Silky smooth and a message of acceptance no matter the way the world or those around us may see us. God loves. Jesus loves. We are all accepted. Thank God for that! I like the idea of taking this from the "misfit toys" angle. Anyone who has seen this Christmas movie can see the correlation. Each toy was perfect for someone and the same goes for each of us. There is a place and a purpose for each of us.

4. Mental (feat. Tedashii & Soul Glo Activatur) - The title track of the album has a cool street rap feel, with an interesting beat mix. Pretty easy to get into this song and enjoy it, but the message may be a little over run by the production of this song. A lot of voice distortion at the start (hard for me, personally, to get through) The message I am getting here is understanding that our thinking process can be quite different from others of the world. We can easily be considered "Mental". Our King died for us... why worship something like that? Crazy can describe it, but the better word is Faith. Faith in a King that came and died for a purpose. Who raised for a purpose. That purpose? US.

5. Tonight - This starts as one of those cool acoustic/rap melding. I found this to be just as good, if not, better than the many I have heard. So smooth and really.. I liked how it slipped itself into a more pop/techno feel as it moved on. Really catchy. A fun listen.

6. Gameface (feat. KB, Soul Glo Activatur & Flame) [2nd Half Edition] - a continuation of the first. I guess you could see it as a pre-show. Then half-time show. The message is the same... beat very similar. I can see how it mixes the album together in a nice way, keeping the message on the same level. Looking forward to the victory.

7. Fresh Kicks On - The idea of new shoes has never hit me as so important, but I know there are so many out there that can get this excited about this. (I collect "toys" so what can I say). So we get this idea, but it is turned to the newness of Christ. The freshness of being a new man. The correlation may be a stretch, but still... I think it can reach the right crowd seeing Christ as powerful addition to a life that makes everything change from then on.

8. It's Going Down (feat. Canton Jones) [Remix] - Ohh no.. not the fog horns. Ha. I am not quite a fan. While a catchy beat. And some message of Jesus sprinkled nicely though out.. I would have to say that this way my least favorite on this album.

9. Brand New Day (feat. Humble Tip & Bethany Jones) [Remix] - "Your sunlight is on my face" just that first line really spoke to me. Such an encouraging way to look at the day. Seeing the blessing of God from the start point of the day. Oh... if the people of the world could keep this attitude at all times. The beat captures this same feeling as well. The song just puts a smile on my face and sets my attitude right where I want it to be.
Connect:
Links
Twitter : @kj52 @sohhpr
Press Contact
Josh Niemyjski
~~~~~~~~~~~~~~~~





Share in Tweet!