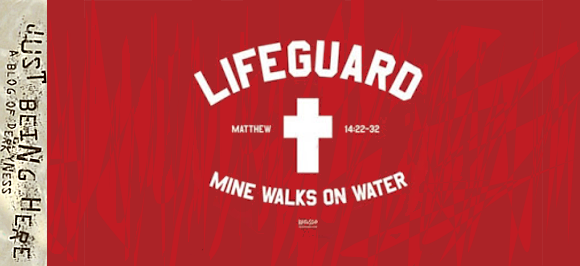 Once upon a time... In a galaxy the same as this one.. And really it was not too long ago.. Sort of.. I was a lifeguard.
It has been a good amount of years since I wore the 'uniform'. I remember making the comment at the time if I did not need to get paid I would still teach kids how to swim. Some things have changed and some things are the same, but something about that job... and getting saved.. had me Bible thumpin' crazy.
Most of my lifeguard years were spent with the YMCA Goodtimes center teaching swim lessons, pretty much all day long. I always enjoyed it because I was never just sitting in a stand all day 'doing nothing'.
One year was different. I was tired of some things and decided to work on the military base we lived near as a guard instead.
The big trouble here was this was the year right after I had truly accepted Christ and my entire outlook on everything was different... How different?
For one.. I almost left the job when I found out I was going to have to work on Sundays, which I may write about in the future, but another was my Christian ideals birthing. One of them being faith in the miraculous.
Now faith is confidence in what we hope for and assurance about what we do not see.

-Hebrews 11:1 (NIV)
A desire and activity I often practiced was 'walking on water' in the kiddie pool during my breaks.
The sentence is a tiny bit misleading... So let me give you a better idea in the format of prose:



I was just sitting there. Looking at the water watching it bouce up and down from its former occupants. Odd how even though no one had been there for a good while the water remembered them.




I enjoy the look and movement of water. I find it artful and inspiring. I decided to find something else in it today. I would find a miracle. Yes, That would be nice.




I take a step forward onto the concrete lip of the baby pool. I take one last look around to be sure there are no witnesses and think to myself

it would be hard to explain my awesomeness.

I start to take the next step and stop.




I think for a moment,

what if I witness it, what if it does not work because I was watching, what if.. no.. stop thinking like that.




I close my eyes. I take the step forward - the water is only a few inches from my foot. I can feel the nearness, I can already see myself upon it - my foot drops, touches the surface of the water.. I choose not to pause but to put all of my faith into the step..




My foot CRASHES through the surface and to the bottom of the baby pool.




I open my eyes, take a quick look around.. and walk away.



Yeah, I wanted a miracle... I wanted something spectacular and wonderful to happen to me. I told myself I just wanted to do it for myself, so I would know... but really... I was not really wanting God to somehow solidify water, but instead to solidify my faith.
He answered, "A wicked and adulterous generation asks for a sign! But none will be given it except the sign of the prophet Jonah.

-Matthew 12:39 (NIV)
I would like to say I only tried it once... or even five times, but the truth is - I have no idea how many times I tried. It could have been 10... or it could have been 50.
How many times have you tried to get a sign in hopes of your faith becoming more solid?
It doesn't matter, and neither did it then!
My faith is stronger anyway, without my walking on any water, then ... or now. My God has brought me into and through so many things to solidify my faith, I can really look back and see moments of stepping out of the boat. Not actually physically walking on water, but seeing God do wonders in this world... through others.. and sometimes... even me.
Very truly I tell you, whoever believes in me will do the works I have been doing, and they will do even greater things than these, because I am going to the Father.

John 14:12 (NIV)
Jesus assured us that we could, and would do great things, so there is really no need to try and force it out. Let God guide you, and great things will come. They may even be happening right now!
Have you ever tried to walk on water, or something like that before?
~~~~~~~~~~~~~~~~





Share in Tweet!